03/01/19 22:31
we're social … connect to Tile Heritage ……. share this site... Thank you!
… apologies if you are not seeing images correctly here. Try using Safari or
Edge -
currently Firefox & Chrome randomly drop images on our website, a fix is in "The Works."


WE HAVE WINNERS!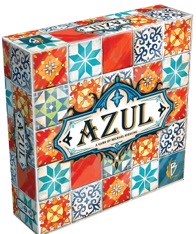 . . . with SPECIAL THANKS to all who participated in the end-of-year Match $5000 in Grant Funds ... your GENEROUS CONTRIBUTIONS reached OVER $7500 by December 31st! All names were placed in the special drawing for the AZUL 'Tilish' Board Game... 6 winners names were drawn!
(The list of winners names is available - email: foundation@tileheritage.org)
AZUL won the coveted Spiel des Jahres (Game of the Year) award in 2018!
In Azul players take turns drafting colored tiles to their personal player board. Later in the round, players score points based on how they place their tiles to decorate their wall of the palace. Extra points are scored for specific patterns and completing sets while wasted tiles decrease player scores. The player with the most points at the end of the game wins. Ages 8 and up for 2 or 4 players.
. . . and to all of our much appreciated SPONSORS, MEMBERS, ADVOCATES & FRIENDS.. your financial contributions, in-kind gifts, volunteer support, Hand Prints for the Global Mural and immeasurable energy maintains Tile Heritage, assisting in safekeeping the archival records of American Tile History - they are a TREASURE!

READ MORE ....