THANK YOU FOR MAKING A
CONTRIBUTION
IN SUPPORT of Tile Heritage Foundation. Your assistance is valued and essential for the THF web-accessed ARCHIVES index!
DESIGNED
to KEEP THF HISTORIC DOCUMENTS
ALIVE
for posterity and
PUBLICLY ACCESSIBLE
to everyone!
Donors in SUPPORT of Tile Heritage are listed in
"SUPPORTERS"
(and scroll down to the "Donors" list…. new donors will be added every two weeks during and after campaigns.)
(All contributions to Tile Heritage Foundation are tax-deductible as allowed by law.)
READ MORE ....


EVENTS & INTERESTING TIMES AHEAD!
TILE HISTORY evolves every day . . . Tile Heritage Foundation is here to RECORD it!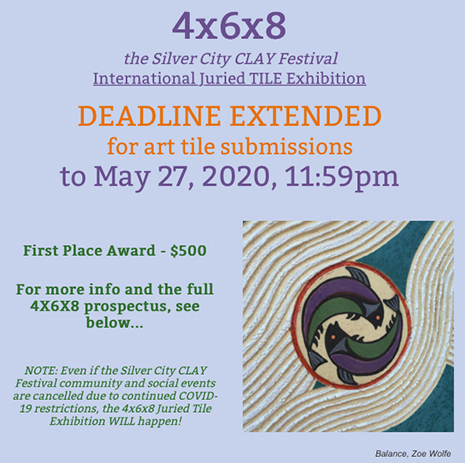 LINK to 4X6X8 PROSPECTUS
. . . or click the image above!
Moravian Pottery and Tile Works 22nd Annual Tile Festival May 16-17 2020. has been canceled due to COVID-19 - however look for links here soon to Tile Heritage Spring & Summer on-line auctions for Delightful Garden Planters as well as Art Tiles from makers around the country!
READ MORE ....