We're social … connect to Tile Heritage ……. share this site... Thank you!
The BOOK …. and Exhibition Catalog ….
Available now!
275 pages of pictures and story - $48. plus tax and shipping.
Email:
Kirby Brown
for purchase details.

Of Cottages and Castles:
The Art of California Faience

FEBRUARY 22 – MAY 17, 2015
Crocker Art Museum Sacramento CA
…
More exhibition details
. . .
During the first half of the 20th century, the period we refer to as the 'Golden Era' in tile making on the West Coast, few companies excelled in the craft of pottery and tile making as did California Faience. The simplicity of the form coupled with the quality of the glaze came to represent the quintessence of Arts and Crafts ideals. Historian Kirby Brown tells this remarkable story from a grandson's perspective, with his heart in every illustrative detail.
Joseph Taylor, Tile Heritage Foundation.
READ MORE ....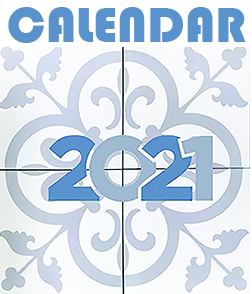 EVENTS & INTERESTING TIMES AHEAD!

TILE HISTORY evolves every day . . . Tile Heritage Foundation is here to RECORD it!

The Arts and Crafts Tile: The Influence of Henry Chapman Mercer" Wednesday, March 31, 7pm

Zoom meeting link: https://us02web.zoom.us/j/86800101609

No password needed.

A lecture given by Vance Koehler, independent scholar

and former curator at the Moravian Pottery & Tile Works
.
FULL DETAILS
or click on the image below…
Coverings is the Global Tile & Stone Experience! JULY 7-9 2021
READ MORE ....