Tile of the Moment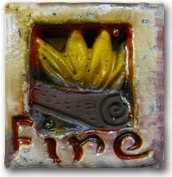 Katia Tiles Doylestown, Pennsylvania
"The Beauty of Earth and Fire"
Raku-fired, high relief tile, 2002
2 ¾" x 2 ¾" x ¾"
Tile Heritage Collection. Gift of Katia McGuirk.

"The Beauty of Earth and Fire"
is a tribute tile produced by Katia McGuirk of Doylestown, Pennsylvania to honor Robin Larsen, founder of the New Hope Arts Center, a woman of great vision and influence in keeping the history of New Hope alive as a destination for and a home to artists of every pursuit.
On a freezing winter evening in 2002 a team of artists got together, built and fired up the raku kiln that lit up the night. All of those present applied glaze to the already bisque-fired tiles and watched in awe as the magic of the raku-firing transformed them. The tile is a Limited Edition, with a small number still available. ($30 each . . . see the THF store for details).
In a world of cookie cut, mass produced homes, furniture and accessories, Katia McGuirk Tile creates completely unique tile systems for traditional and contemporary lifestyles. Katia was educated at the Rhode Island School of Design, and for over two decades she has been producing tile in the proud tradition of Henry Mercer of the Moravian Pottery and Tile Works. She combines this age-old art form with a fun, colorful, contemporary touch. Dedicated to the ideals of the Arts and Crafts movement she produces tiles as a labor of love.
See
www.katiatiles.com