Tile of the Moment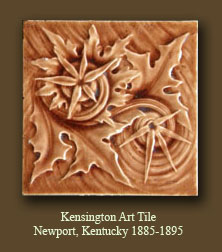 Kensington Art Tile
Newport, Kentucky
1885 - 1895

Tile Heritage Collection
Gift of Bob Smyth
In 1881 the Hatt brothers, Arthur and Otto, established a tile works at Elm and Lowell Streets in Newport, Kentucky. Their company, Hatt & Hatt, was taken over by a group of investors in 1885 and renamed the Kensington Art Tile Company. During its short tenure as a manufacturer of dust-pressed art tiles, the combination of portraits and floral interpretations was most impressive due to the artistic talents of Herman Mueller and Mary Louise McLaughlin, among others.
From an 1891 published report in "Illustrated Cincinnati" (courtesy of the Tile Heritage Library): "The main building is a substantial brick structure, three stories and basement in height and 40 by 200 feet in dimensions. The equipment for art tile-making purposes is of the most elaborate, complete and modern description, and includes four large kilns, which bake to the extent of 14,000 feet of tile at one filling.
"The processes of preparation of the crude clay are as elaborate as they are complicated. The clay is first puddled and forced through great sieves by steam power. It is then dried and ground to a fine powder, and then moulded and pressed into the tile shapes, which are carefully baked, then removed and coated with the enamel and glazing liquids. They are then finally placed in the kilns and thoroughly glazed, when they are finally removed to the sorting and packing room, and forthwith shipped to destination.
"The most extreme care is taken to have all the materials pure and accurately prepared, and the result is a perfection of quality, an elaborateness of finish, and a beauty and delicacy of colors and tints, nowhere else attempted, much less duplicated. An average force of 100 hands is employed, and ten teams are kept constantly busy."