Calendar/Events/Workshops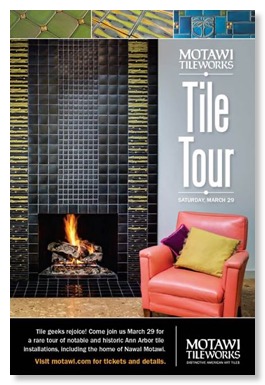 COMING UP IN MARCH!
TILE GEEKS REJOICE . . . JOIN IN! March 29th 2014

Joe Taylor of Tile Heritage will join Nawal Motawi of Motawi Tileworks, Ann Arbor, MI for a tile tour of notable historic tile installations as well as an overview, public discussion, of historic and contemporary tiles
.

CLICK for TICKETS



CALL FOR ENTRY- DEADLINE 7-15-2014
ZANESVILLE PRIZE FOR CONTEMPORARY CERAMICS
" FROM THE GROUND UP"
(BEST IN SHOW PRIZE IS $20,000)

(DETAILS HERE or click images)





HANDMADE TILE ASSOCIATION
WORKSHOPS



THF Tile Industry Sponsors Gallery Links
THF Supporters and Members


Click image for WINTER-SPRING Calendar details!





WINTER-SPRING workshops at AMOCA .. click image



NCECA 2014, 48TH ANNUAL CONFERENCE
March 19-22, 2014 Milwaukee, WI Material World
Wisconsin Center 400 W. Wisconsin Avenue Milwaukee, WI 53203 Registration opens October 2, 2013


Find Tile Heritage here...

DETAILS: click the graphics…
..
Find Tile Heritage here...
TILE FESTIVAL -
MORAVIAN POTTERY AND TILE WORKS
MAY 17-18th 2014

I
nterested in being a vendor? Email: tileshop@co.bucks.pa.us
or: mptw@co.bucks.pa.us
(click image for more details)

click image for more details…..
Morocco: Gardens, Culture & Cuisine
A
Pacific Horticulture Society
tour

May 9-17, 2014 * Escorted by Katherine Greenberg
TIME TO THINK AHEAD TO SUMMER
in sunny Italy! An Architectural Ceramics/Tile Workshop with Stephani Stephenson and Marcia Selsor. Location: La Meridiana - about 30 km outside Florence near Certaldo.
Registration is limited . . . .
DETAILS
WINTER -SPRING workshops .. click image
for Penland Workshops Overview-click the graphic
Workshops calendar-click the graphic
Workshops in 2014
Contact:
candaceresnick@hotmail.com
WINTER-SPRING workshops!

2014 Workshop Schedule

Where: Santa
Theresa Tile Works,
Tucson, AZ

San Francisco -
Hidden Garden Steps
community project.
Having an event? ....send details to THF for this calendar!
foundation@tileheritage.org




2014 Tile and Mosaic Classes and Workshops
taking place from Minnesota to Arizona!
Taking a class on mosaics and how to learn how to make tile is an addicting experience. Once you get your hands on clay and tiles they will ache for more literally and mentally. Check out these amazing classes offered by HTA artist members
.
DETAILS

For Future Reference!
Of Cottages and Castles:
The Art of California Faience

FEBRUARY 22 – MAY 17, 2015
Find Tile Heritage here...

Having an event? ....send details to THF for this calendar!
foundation@tileheritage.org

See who Sponsors Tile Heritage Foundation!

DONATE TO TILE HERITAGE FOUNDATION IN SUPPORT OF THE ARCHIVES